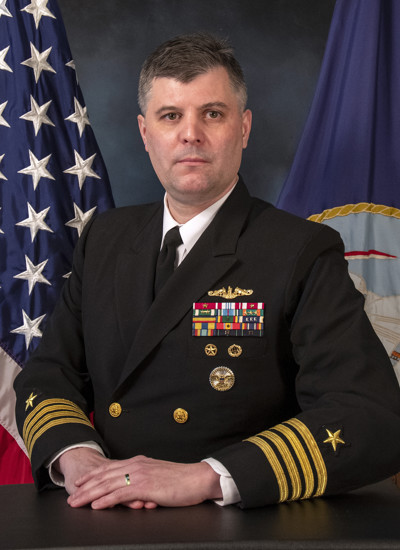 Captain Ian Johnson is a native of Wakefield, Rhode Island. He graduated from the United States Naval Academy in 1994 with a Bachelor of Science degree in Aeronautical Engineering, and entered the submarine training pipeline, completing nuclear power training in Orlando, Florida, and Ballston Spa, New York.
In 1996, he reported to USS Parche (SSN 683) in Bangor, Washington, where he served as electrical officer, main propulsion assistant and damage control assistant. There he completed three special ocean engineering missions, and earned three Battle "E" awards, two Meritorious Unit Commendations, and the Presidential Unit Citation. After completing the Submarine Officer Advanced Course in Groton, Connecticut, he reported to USS Maine (SSBN 741) in Kings Bay, Georgia, where he completed five strategic deterrent patrols as the ship's navigator from 2001 to 2004.
His next sea tour was the executive officer aboard USS Memphis (SSN 691) in Groton, Connecticut from 2006 to 2008, and then as commanding officer of USS Connecticut (SSN 22) in Bremerton, Washington, from 2011 to 2014.
Johnson's shore assignments include Strategic Systems Programs; Office of the Secretary of Defense; deputy commodore of Submarine Squadron 7 in Pearl Harbor, Hawaii; Submarine Force Atlantic Shipyard representative at Electric Boat Shipyard Groton, Connecticut; commanding officer of Naval Station Newport; chief of staff of Navy Region Northwest; and executive assistant to Commander, Navy Installations Command.
In May 2023, Johnson reported as Commander, Navy Region Southeast.
Johnson holds a Master of Science degree in Engineering Management from Catholic University of America. He completed his phase II of Joint Professional Military Education at the Joint Forces Staff College in Norfolk, Virginia in 2010.
He has been awarded the Legion of Merit Medals, Defense Meritorious Service Medal, Meritorious Service Medals, Navy Commendation Medals, Joint Service Achievement Medal and Navy Achievement Medals.